Gatsby almost 11 yrs of age
wins Best Veteran In Show at the 2009 US National!!

Photos by

Theresa M. Lyons /
TheRidgebackRegister.com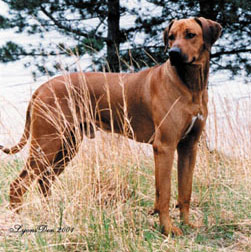 MBIS
MBISS AM CH SPRING VALLEY'S GREAT GATSBY [ROM] (USA)






(C) PERRY PHILLIPS


"GATSBY"

No 1 RR in America for 2001, 2002, 2003, he has won 9 Best In
Show (All Breeds), 5 Best In Show (Specialty) including the 2003 National
& numerous Best In Show (Hound Club)

Gatsby's retirement show was Westminster 2004 where he was awarded BOB &
BIG-2!!



Many
Thanks to Sonnet Mckinnon for allowing us to use Gatsby's "precious
drops"! Barbara Binder & Lee Jones from ICSB for helping the semen travel
to Australia. Cyndy Burton



(Starridge) & Sue Mewse

(Mieridge)
for sharing all the expenses!!

Big Congrats to Marie Cotton of
Spring Valley RR's for breeding this special boy!!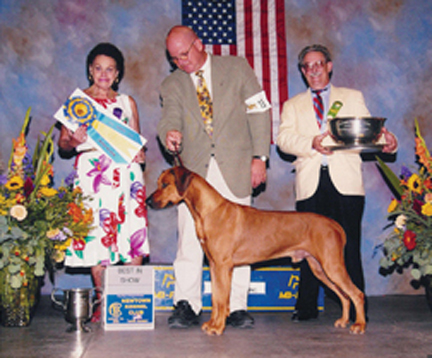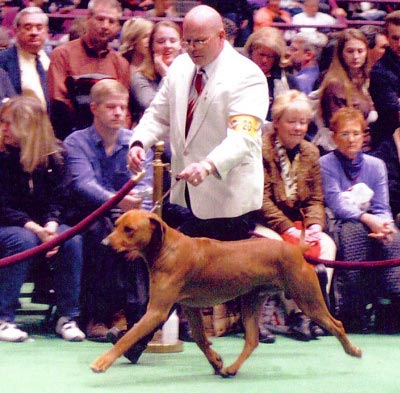 Pedigree for
Am Ch Spring Valley's Great Gatsby ROM (USA)


Sire
Am Ch Sprngvly Spence O'
Laurlcrest (USA)



Sire
Spring Valley I Like Ike (USA)



Sire
Mshindaji's Seeing Red (USA)



Sire
Am Ch Mshindaji's One For The Road ROM (USA)




Dam
Am Ch Mshindaji's Adimika
Johari C ROM (USA)




Dam
Am Ch Spring Valley's O My Darlin (USA)



Sire
Am Ch Kali's Reno Of
Arkenstone ROM (USA)




Dam
Am Ch Spring Valley's Peezee (USA)




Dam
Spring Valley's Jenny Jump (USA)



Sire
Spring Valley's Oliver (USA)



Sire
Am Ch Kali's Reno Of
Arkenstone ROM (USA)




Dam
Am Ch Spring Valley's Master Piece (USA




Dam
Am Ch Spring Valley's Peezee (USA)



Sire
Am Ch Kimani's Spoor of The Cheetah ROM (USA)




Dam
Spring Valley's Retta (USA)




Dam
Am Ch Spring Valley's Pee Dee (USA)



Sire
Am Ch Spring Valley's Absolut ROM (USA)



Sire
Am Ch Crosswicks Dr Livingstone (USA)



Sire
Am Ch Asabi's The Sheriff (USA)




Dam
Am Ch Asabi's Aurora Of
Crosswicks ROM (USA)




Dam
Am Ch Spring Valley's Bit O Honey (USA)



Sire
Spring Valley's Oliver (USA)




Dam
Am Ch Spring Valley's Peezee (USA)




Dam
Am Ch Crosswicks Spring Valleys De (USA)



Sire
Am Ch Spring Valley's Uppity Dude (USA)



Sire
Am Ch Kali's Reno Of
Arkenstone ROM (USA)




Dam
Am Ch Spring Valley's Peezee (USA)




Dam
Am Ch Crosswicks Debutante ROM (USA)



Sire
Am Ch Gitano Of Raintree
ROM (USA)




Dam
Am Ch Asabi's Aurora Of
Crosswicks ROM (USA)