Updates
2020
_______________________________________________
_______________________________________________
_______________________________________________
_______________________________________________
_______________________________________________
_______________________________________________
---
08/04/20 Flare's a great Mum, still giving them
an occasional feed!!  Check out new headshots
of the pups at 5.5 wks on the Litter Page!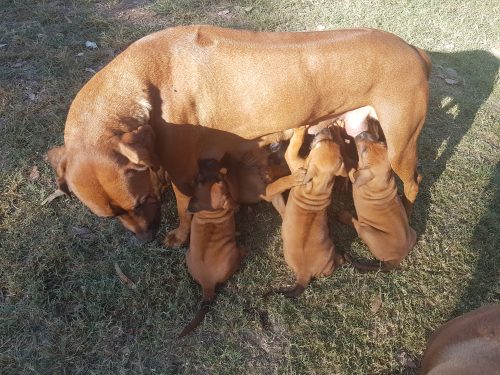 ---
30/03/20 What a good big brother he is 🙂 We have new
headshots of the pups at 4 wks on the Litter Page!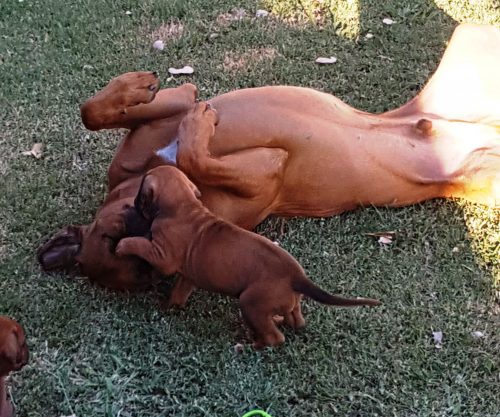 ---
24/03/20 Miss Purple showing off her side profile at 3 wks, check out new
headshots of all the pups on the Litter Page!
---
16/03/20 Most of the pups at 14 days with their beautiful Mum Flare!
For more pics go to Litter No 17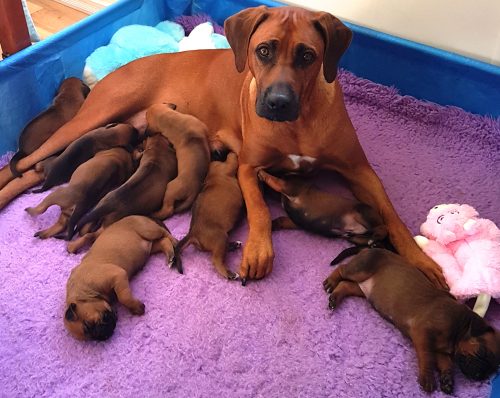 ---
12/03/20 Babies are 12 days old now and doing really well, what's that saying – growing like weeds!!

---
07/03/20 ***Presenting the Leaplings***
Born 29th February 2020, 10 beautiful babies! 4 boys & 6 girls, all ridged, no DS detected
at this stage but will continue to check weekly.
One little girl, Miss Red, was only about half the birth weight of her
brothers & sisters but is gaining weight nicely. She also has
extra crowns in her ridge, a kinked tail & heaps of white on her tummy.
All the other pups have lovely show ridges except Miss Aqua who I think
only has 1 crown! Mr Black has a very tiny kink in his tail.
For more pics go to Litter No 17


---
We are very excited to announce our next litter due 1st March 2020
Aust Sup Ch Nambala Acopie ET Pedigree
x
Aust Ch Almazart Captive Fyre Pedigree